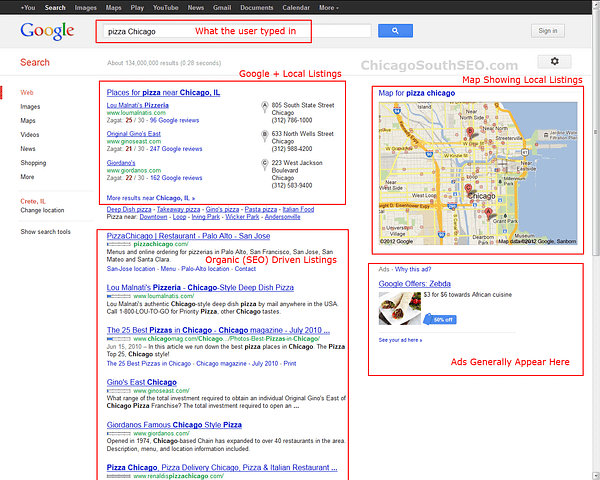 What's Local SEO?
SEO means "search engine optimization" which is a set of techniques, strategies and approaches to rank your website in the first positions of the search results delivered by Google and other search engines.
Local SEO is a component of SEO that focuses on promoting the websites of local businesses online.
Google sends a lot of traffic to websites. When a searcher goes to Google and type in a phrase for something they are looking for, Google's search engine returns a list of pages with links pointing to relevant content (web pages).
Google uses a series of fancy software programs and calculations known as algorithms. These algorithms determine which content is relevant based on the words used by the user to search for content.
Local Search Example: Chicago Pizza
Let's say that you own a pizza company in Chicago and someone searches on Google for "pizza Chicago". Google will search for places where people can buy pizza in Chicago. If your website is among the first websites on the list, your website has the chance of receiving a lot of traffic from people clicking on your link. It will send to you most of the people who search for "pizza Chicago"
In general, the more websites from your local area that link to your website, the more Google will love you. Google's love for your website will also increase if you have high quality content (articles) on your website. That's because Google wants to send traffic to places with high quality content.
9 Things to Remember About Local SEO
The following are the most important things you have to know about Local SEO:
#1: Doing Local SEO is Very Similar to Doing SEO.
People on the Internet search for two types of information. First, they search general issues and international or national problems. For example, they may care about weight loss, about the War on Terror or about The Tour Of France. Second, they search for things to buy and activities to do in their town. They may search for products so they can find a better deal online. They may try to find cool places to spend their time in the city or they may simply search for different products that they are going to buy offline locally in their own neighborhood.
As you can see, SEO and local SEO are pretty much the same thing. The only difference is the group of people. Local SEO targets people in close local areas, such as the same city. SEO in general targets people from all over the world. This is why the traffic you can expect from local SEO is in general smaller than the traffic you can get by selling your products and service worldwide over the internet.
#2: Learn it, Use it or Outsource it.
In the beginning, you should learn to do local SEO. Try to tweak your business website using local SEO techniques to see if you can get it to for local keywords. If neither have the time or interest, but realize local SEO is important, then you should outsource it to an SEO consultant.
#3: Your Online Local Reputation Counts More than Your International Reputation.
If you own a website that promotes a local business online, Google will count as more important the links that you will receive from other local businesses than from any other online places.
#4: People who Search for Online Businesses want to Buy.
98% of the people who buy products offline, at their local store, did a little bit of online research before they bought the actual product in a local store.
#5: Have Business Profiles Around the Internet.
There are websites like Google Places and Yelp.com where you can create a business profile and have visitors comment on the quality of your business services. A Google Places profile can rank in front of any other websites listed for your keyword on Google.
#6: Ask Your Customers to Submit Reviews on sites Like Yelp, Merchant Circle and Google+ Local Places.
These websites are often consulted before people decide to buy from your business or from your competitor's business.
#7: Be Active Online and Stand for Something.
Create your own Twitter, Facebook, Google Plus, Instagram and YouTube profiles. Stand for an opinion related to your business and other people will take your side. Eventually those fans will buy your products or they will recommend them to other people.
#8: Strategically Place Your Name, Address and Phone Number (NAP) on Your Business Website.
Remember to put your address on multiple places on your website. make sure that your NAP (Name, Address and Phone Number) is listed the same way on your website and other citation sites (Yelp, Merchant Circle and Google+ Local Places). Create separate page called "Contact" and give even more ways for people to contact you. Google loves this kind of stuff.
#9: Put Yourself in the Shoes of Your Customer.
Online marketing is no different from offline marketing in terms they both must focus on what the customer wants. In both situations you have to think from the perspective of your customer. So, all the changes that you will make to your online website have to be in accordance to what your customers like and desire.
Bottom Line:
Local SEO is quite easy to understand. You just need to focus on improving your rankings by putting good content out there and by having other people from your community link to your website. Good luck and experiment with different local SEO techniques.
More Articles About Local SEO
Local Search Tips for Your Small Business
How To Do Local SEO For Your Website in Five Minutes (or So)
Draw Visitors to Your Small Business with Local SEO Strategies
The Who, What and Why of Google My Business