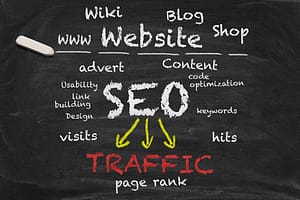 Your website is a potential customer's first impression of you. You may have spent top dollar getting it to look just right.
Unfortunately, if your website has not been optimized to appear on page #1 of Google, for search terms relevant to your core business, your money has been wasted.
A website's position on search engine result pages (SERPs) is critical to driving site traffic. A survey performed by iCrossing analyzed natural search results and found that between 80-95 percent of all site traffic from search engines comes from page-one results.
Here's a question for you… When was the last time your clicked beyond page #2 the last time you used Google?
Let us fix your website to help improve your chances of ranking on the first page of Google and other major search engines. Chicago South SEO will download pages of your choice from your website (Including the home page) and optimize the HTML coding (title tags, meta tags, header tags, image alt tags and suggested additional content – as needed).
We will also provide you with a suggested sitemap page, robots.txt file and 3 keyword phrases for each page. All edited pages and/or suggestions will be emailed to you. Upon your approval, you (or your webmaster) can simply upload the updated pages to your web hosting server and you will be good to go!
Call me at 1-708-337-0148 or REQUEST A QUOTE.
To Learn More About Local Search, See Below:
Local Search Tips for Your Small Business