Websites For Businesses Who Don't Have Time For Websites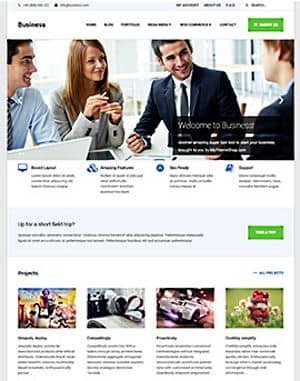 If you're an entrepreneur then you understand how important it is to have a great website. The problem many people run into is that creating a website can be both complicated and expensive. Most new businesses simply can't afford to spend thousands of dollars, and wait for months, just to create a website.
Thanks to web platforms like WordPress, however, it is now incredibly easy for anyone to create an outstanding site. WordPress is used by businesses and individuals all over the world and is easily the most popular and easy to use website platform. All you have to do is install it with a few clicks and you're ready to go. Best of all, WordPress is free!
While WordPress is great, your business needs to stand out. You can't rely on the basic look and feel of a fresh WordPress site. You need an outstanding, attractive and interactive website theme. This is why you need the "Business Theme" from MyThemeShop.

This is a truly modern theme that will be ideal for your business. Not only will this theme allow you to effortlessly build the website of your dreams but it's fully optimized for search engines. It's entirely customize-able and is completely responsive which means it works perfectly on all mobile devices.
Need a Website?
Don't waste months waiting; don't spend thousands on web design. The "Business Theme" is everything you need!
If you want to take advantage of the enormous marketing power of local search, check out the "Business Theme" from MyThemeShop. today and at least investigate the possibilities of a search optimized website for your business.